Thank you for your interest in supporting the work of the Greater Huntsville Humane Society. Your contribution today will help us continue to provide loving care to the homeless pets at GHHS.
Special Donation Fund: Landers McLarty Subaru is partnering with the Greater Huntsville Humane Society during the month of October to help raise funds for a dog park to be built at GHHS for the shelter dogs.  The park will help enrich the daily lives of the dogs in the shelter and provide socialization opportunities so that they will be ready for their second chances. To support the dog park fund, click the box next to "I would like to designate this donation to a specific fund" and select "GHHS Dog Park." Thank you!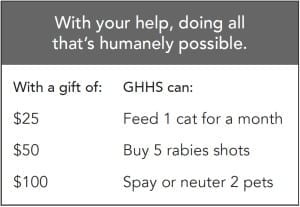 Please fill out the form below to donate via Paypal. Thank you again for your support.