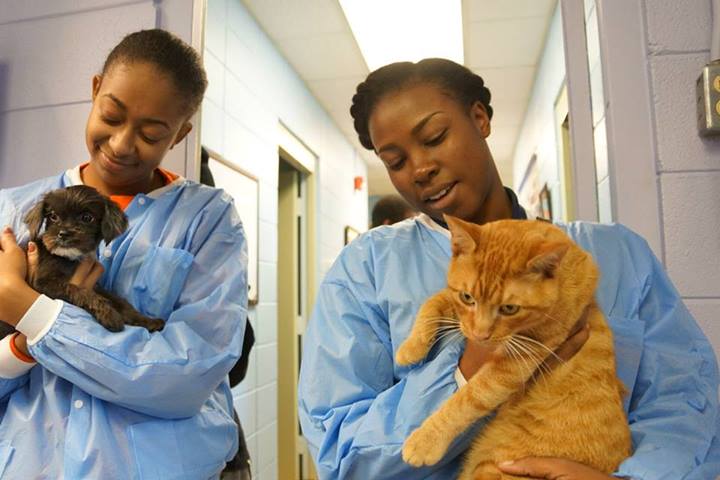 Thank you for your interest in volunteering! GHHS relies almost entirely upon volunteers, and we're always looking for kind-hearted and responsible people to help us in our mission.
Volunteers can fill a variety of roles, such as guest escorts, dog walkers, feline socializers, cleaning, and thrift store sorters and pricers. You can volunteer in as many areas as you'd like, or focus on one particular job.
We have several volunteer programs, please find your age-appropriate program below:
Ages 6 – 15:  Junior Volunteer, go to the Paws for Reading page (our new reading program for socializing animals, parental supervision required)
Ages 16 – 19:  Volunteer (apply here), please note you will need to provide a signed 

parental consent form

 before volunteering and you will not be allowed to handle the larger dogs
Ages 19+:  Volunteer (apply here), you do not need to complete any additional forms, and you may sign up for dog walking after your orientation
For the health and safety of everyone, volunteers must be at least 16 years old to volunteer without parental supervision. We do not allow children to assist parents with volunteering. Additional training needed to volunteer as a dog walker.
Group Volunteering
GHHS is always open to group volunteering, since some jobs are easier with many hands.
Here's an idea of what your group may be asked to do:
General shelter cleaning
Socialize kittens & puppies
Clean litter boxes
Scoop the kennels & puppy patio
Pick up trash around facility
Seasonal landscaping work
Due to our small building size, we can only accommodate groups of up to 12 people. Volunteers under 19 years old must have a signed Parental Consent Form. Due to insurance restrictions, we cannot accept volunteers under 16 years old and group volunteers are not allowed to handle the large dogs.
If you or your group is interested in volunteering, please complete the Group Volunteering Form and return it to Vickie Young (256-881-8081 x217 or [email protected]). Please return the completed form at least 2 weeks prior to your intended volunteer date.
Special Events
GHHS hosts various special events through the year, and each event requires a special set of coordinators and representatives. If you're interested in special event volunteering, contact the PR Manager, Shannon Siegel, at [email protected] 256-881-8081 x216.