Baby Gets A Second Chance
Baby was surrendered to GHHS in October of 2017.  She had been with her family of 13 years since she was a tiny kitten.  Due to health reasons, her family could no longer care for her and surrendered her.  After 13 years in one home, the shelter was a very scary place for Baby and she spent most of her time hiding underneath the blankets in her kennel in a staff member's office.  When Baby was moved to the cat room, she hid in the back corner of her kennel, and did not want anyone to touch her.  She was moved back into a staff office so that she could roam freely in the hopes that she would become more at ease.  Baby settled right in but was overlooked time and time again by adopters who were more interested in younger cats or kittens.  Nevertheless, Baby's second chance did come.  A potential adopter came in looking specifically for an older cat and was introduced to Baby.  Baby even climbed into the carrier to go home without a sound.  Since her adoption, Baby has been thriving in her new home and is said to be quite spunky.  She enjoys napping on her owner, playing with her tunnel, hanging out on her special blankets, and getting attention from everyone who visits.  We are thrilled that Baby got her second chance!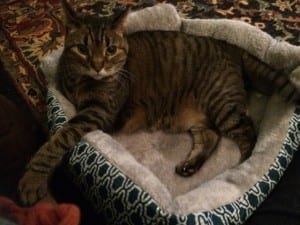 …………………………………………………….  …………………………………………………….
A Special Home for Laila Ali
Laila Ali and her siblings were surrendered to the shelter by a family who could not care for all of them.  One by one the boxer puppies were adopted.  But, Laila was adopted and returned.  Her adopter took her in for a veterinary check up and it was discovered that she was deaf.  The new family did not feel as if they were equipped to deal with Laila's special needs.  So, the search for the right home began.  Laila needed to go to an adopter who would be willing to manage the special training required to teach Laila her manners so that both she and her owner would reap the rewards of the human/animal bond.  One such adopter came looking for Laila.  She had a Boxer who had gone deaf during her lifetime and was familiar with what it would take to train Laila.  Laila Ali was getting a second chance at a happy life.