Sometimes GHHS receives animals with serious injuries or illnesses. The Pitch-In Program rehabilitates these loving animals as much as possible in preparation of a forever home. Many of these animals require a longer stay at GHHS to recuperate from their illness or injuries.
We treat a variety of ailments, including heart worm, animals hit by cars, severely malnourished animals, and animals that have to have time to adjust to accepting the love and compassion that we have to offer. Please consider donating  to the Pitch-In Pet Fund to help save these animals' lives.
Duchess
Duchess came into the shelter with her one kitten, Marie.  Marie was adopted.  But, Duchess remained in the shelter.  She was not eating well, was staying in her bed most of the time, and was becoming lethargic.  Our Animal Care Staff examined her and found a very large abscess near the base of her tail.  It would have been causing her pain and discomfort.  A procedure needed to be done to cut a sizable hole around the abscess to clear out all of the infection.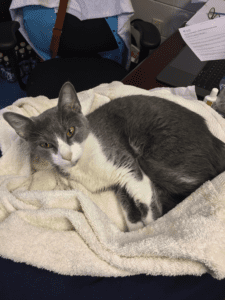 Duchess has to wear a cone to keep her from trying to groom the wound and keep it germ free.  Although the wound is very large, Duchess is healing well and will be doing fine in no time.
Please consider giving to help cover the cost of Duchess' procedure.  https://ghhs.org/donate/

Lucy
Lucy's owner passed away and she was surrendered to GHHS.  Prior to coming to the shelter, Lucy had been a chained, outside dog.  She had not been socialized very much at all and was very shy.  Lucy came to GHHS with heartworms.  The treatment for heartworms lasts about 4 months and is very expensive.  Lucy has been placed in a foster home for the duration of her treatment.  GHHS covers all costs associated with the heartworm treatment.  We look forward to Lucy feeling better and being active.
Please consider giving to help covering the cost of Lucy's heartworm treatment.  https://ghhs.org/donate/