Sometimes GHHS receives or has animals with serious injuries or illnesses. The Pitch-In Program rehabilitates these loving animals as much as possible in preparation of a forever home. Many of these animals require a longer stay at GHHS to recuperate from their illness or injuries.
We treat a variety of ailments, including heart worm, animals hit by cars, severely malnourished animals, and animals that have to have time to adjust to accepting the love and compassion that we have to offer. Please consider donating  to the Pitch-In Pet Fund to help save these animals' lives.
Mr. Smee
Mr. Smee is a very special kitty here at GHHS.  After he and his mother, Tiger Lily spent months in the cat room with little attention, Mr. Smee and Tiger Lily were adopted by the GHHS Thrift Store and make their home in the store.  Many people come into the store just to see these two felines.
Mr. Smee has a swollen leg that causes him to limp.  Veterinarians have not yet been able to determine exactly the cause of the swelling.  Further diagnostics are necessary to find the answer.  The vet bills have become very expensive and will continue to go up.  We need help with these expenses in order to continue providing Mr. Smee with the best medical care possible.
Please consider a donation to Pitch In Pets for Mr. Smee.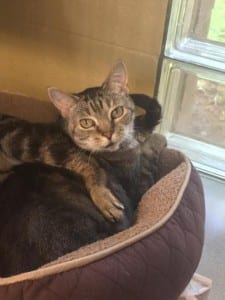 Please consider giving to help Mr. Smee.    https://ghhs.org/donate/